March 15, 2018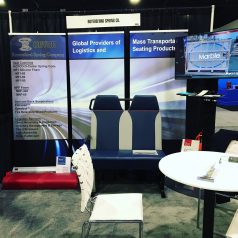 The Royersford Spring Company again exhibited at the 2017 APTA EXPO in Atlanta Georgia. This is the most important exhibition in North America for passenger rail seating. Fully upholstered seats were provided by Kustom Seating and Khrome, two long time clients in the rail passenger seating market. This year we exhibited the Denver/SEPTA 2-Passenger seat showing MF1 silicone foam on top of the standard ROYCO O-Center spring assemblies and also an LIRR M7 seat that uses MF1 silicone foam on top of ENTRANSIT suspension textiles.
The exhibition was attended by record crowds from all over the world. Our clients also come from all over the world and it is exciting to meet with them and to meet so many new people. the North American rail market is growing and is truly international.
See you in San Diego in 2020!